Turtle Rescue of Long Island
A 501(c)3 Organization ~ all donations are tax deductable
The goal of Turtle Rescue of Long Island is to provide reliable, up to date information on the care of turtles and tortoises as well as provide a haven for those in need. On the pages of this website we hope you will find the information you are looking for. We strive to provide the best possible information on all aspects of care of chelonians. You will find links to some of the best sites on the web for species specific care. If you can't find something just send us an e-mail and we'll try to find the info for you.

Turtle Rescue of Long Island is a 501(c)3 non-profit rescue that became incorporated in 2004. We do our best to place all the turtles and tortoises which can no longer be kept for whatever reason that are brought to us. Many people buy a turtle or tortoise and know very little about their care and don't realize how large or how long turtles and tortoises can live with proper care. Others just find they can no longer care for their turtle or tortoise and just want to find it a good home. Whichever the case, we hope to help find good homes for those that need them.

We also take in many native and non-native chelonians for rehabilitation. There are cases that can be anything from hit by car, illness, cruelty cases, neglect and abandoned. Whenever possible all native wildlife is returned to the wild as they should be. Most others are adopted to permanent homes.

For more information on turtles and tortoises join our Yahoo group. Just click on the link in the menu column. Lots of friendly turtle keepers with a like interest that love sharing advice, stories and more about their turtles and tortoises. Come join us!
http://pets.groups.yahoo.com/group/TurtleRescueLongIsland/join
DUE TO THE OVERWHELMING REQUESTS FOR RED EAR SLIDER TURTLE PLACEMENTS WE ARE SORRY TO ANNOUNCE THAT AT THIS TIME WE CANNOT TAKE ANYMORE INTO THE RESCUE UNTIL FURTHER NOTICE. SORRY WE CANNOT HELP THEM ALL. :-((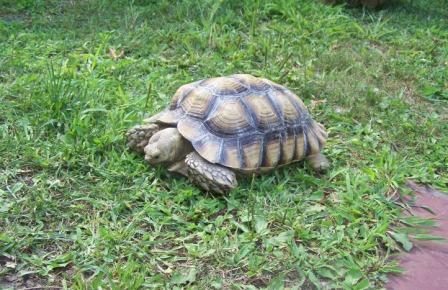 Here in this yard... I will never know the barriers of living in a glass tank.
I can sleep soundly, assured that when I wake my world will not have changed.
I will never know hunger, or the fear of not knowing if I'll eat.
I will not shiver in the cold, or grow weary from the heat.
I will feel the sun's heat, and the rain's coolness, and be allowed to smell all that can reach my nose.
My shell will be dirty because that's how a tortoise should be, not shiny from being waxed.

Here in this yard... There will be an effort to communicate with me on my level.
I will be talked to and, even if I don't understand, I can enjoy the warmth of the words.
I will be given a name so that I may know who I am among many.
My name will be used in joy, and I will love the sound of it!

Here in this yard... I will never be a substitute for anything I am not.
I will never be used to improve peoples' images of themselves.
I will be loved because I am who I am, not someone's idea of who I should be.
I will never suffer for someone's anger, impatience, or stupidity.
Here in this yard... I can trust arms that hold, hands that touch...
knowing that, no matter what they do, they do it for the good of me.
If I am ill, I will be doctored. If scared, I will be calmed.
No matter what I look like, I will be considered beautiful and known to be of value.
I will never be cast out because I am too old, too ill, too unruly, or not cute enough.
My life is a responsibility, and not an afterthought.
I will learn that humans can, sometimes, be kind.

Here in this yard... I will belong. I will be home.